This is a guest post by Lisa Andrews, a chiropractor for 8 years.  Lisa owns Knowle Chiropractic Clinic, where she enjoys helping people of all ages to achieve better health naturally.  Lisa is passionate about good health and wellbeing and the benefits of chiropractic care as part of a healthy lifestyle.  Please remember to discuss exercise with your doctor before starting or changing an exercise regimen.
Back pain is by far the most common condition seen by chiropractors and is something that I regularly deal with at my own chiropractic clinic.  It affects 1 in 3 people throughout their lifetime and is the top reason for absence from work.  Thankfully, by following a few of my easy-to-follow exercises, you'll be able to decrease your risk of back pain significantly.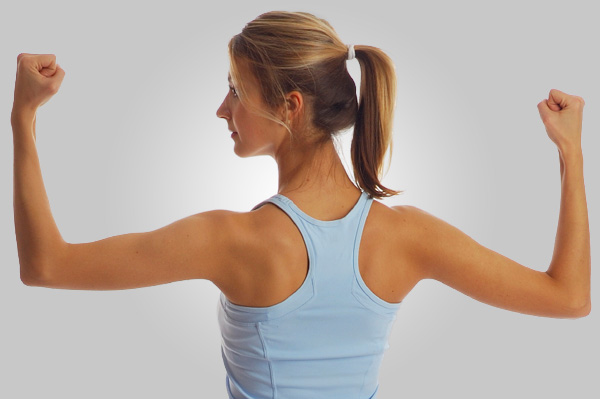 Exercise
Regular exercise is one of the most effective ways of preventing, reducing and in some cases eliminating back pain.  To get the most benefit, you need both a good level of aerobic fitness along with strength and endurance in the muscles which support your back.  You must also take care to avoid exercises that place excessive stress or strain on your back.
Aerobic exercise strengthens your lungs, heart and blood vessels and can also help you lose weight, which relieves strain on your back.  Start with low impact exercise, keeping your sessions short.  Build up over time, aiming to reach 40-60 minutes 3 times a week.  Recommended forms of aerobic exercise include walking, cycling and swimming as they place very little strain on the back.  Of course, you should consult your family doctor, chiropractor, or a personal trainer and review your exercise program before getting started.  Remember to approach your goals slowly, especially if you already have a back complaint or you haven't exercised recently.
I commonly find that people with back pain have weak core muscles.  These are the deep layer of back and abdominal muscles which stabilize and support the spine.  Activities such as Pilates (with a trained professional) are great for strengthening these muscles.  There are also some simple exercises you can do at home or in the gym to increase the endurance of these muscles and reduce your chances of developing back pain.
1. Cat-Camel
Get onto all fours, keeping your knees under your hips and hands under your shoulders.  Slowly lower your head between your arms and push up high with your back, rounding your spine.  At the top of the movement, slowly lower your back down, moving your belly button towards the floor, at the same time lift your head up and tilt it back slightly.  Repeat five to eight times.  This exercise isn't a stretch – don't push or hold at the end of each movement.
2. Curl-up
Lay on your back on the floor with your left leg straight out.  Bend your right knee and put your right foot flat on the floor.  Place your hands palm down on the floor underneath the curve at the bottom of your back.  (Don't flatten your back.)  Slowly raise your head and shoulders off the floor without bending your lower back or spine.  Hold this position for 7 to 8 seconds, breathing deeply.  Repeat 4 or 5 times, then switch legs to do another set with your right leg straight and your left leg bent.
3. Side Bridge
Lay on your left side with your legs out straight and your upper body propped up on your left elbow and forearm.  Put your right hand on your left shoulder and slowly raise your hips until your body forms a straight line from your shoulders to your knees. Hold this position for 7 to 8 seconds, breathing deeply the entire time.  Repeat four or five times, and then switch to your right side for another set.
4. Opposite Arm and Leg Raise
Get into the all fours position again.  Slowly raise and straighten your right leg and left arm at the same time. (Don't do the right leg and right arm together!)  Hold the position for 7 to 8 seconds, breathing deeply.  Lower your arm and leg down, back into the starting position.  Perform four or five repetitions, then switch sides for another set.
While the benefits of exercise in reducing and preventing back pain cannot be overstated, the wrong type of exercise may make your back pain worse, so take care!  One of the most common positions people hurt their back in is when bending forward.  So reaching down to touch your toes is not a good stretch for people with back pain.  Activities such as lifting heavy weights, squatting and climbing are not advised as they place a large amount of strain on the back.  High-impact exercises such as running, jumping, and step aerobics can also aggravate back pain.  If you find you experience pain when exercising, stop and consult a professional.  You may need to change the way you exercise for a while to allow your back to heal.
Final thoughts
Most cases of back pain are triggered by something simple within your daily routine.  You can dramatically reduce your chances of developing back problems by taking extra care when lifting objects, maintaining a good posture and exercising regularly.  If you do suffer from persistent back problems, be sure to speak with your family doctor or chiropractic professional who will be able to give you further advice and recommendations.