This is a guest post by Anna Fox, who writes about diabetes treatment and natural remedies, and is passionate about health, fitness, and self-improvement.
Ah, pain.  Like an old friend, it warns us when something isn't right with our bodies.  But, like an old enemy, it sometimes pesters us long after its useful warning has passed, leaving us with aching bones, sore muscles, and countless other nagging sensations that we simply need to get through and move on from.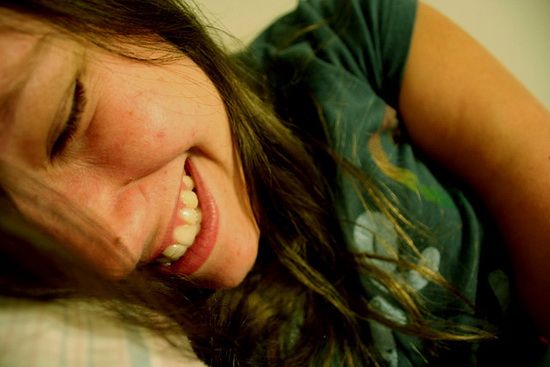 Your pain may be a temporary, like that of a toothache, or a more permanent ache that you're learning to live with.  Either way, the modern social media landscape has something to help get you through the worst of it, even if only by reminding you that you're not alone.
You may not be able to stop your pain in its tracks, but you can be proactive in dealing with it.  Grit your teeth, jump online, and check out these four Twitter hacks for coping with pain:
1. Join Others in #Pain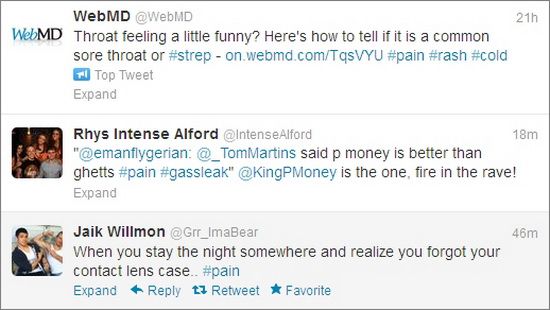 One of the most appealing aspects of Twitter is its ability to draw people of all kinds and types together in a common cause.  It all starts with a conversation.  By using the #pain hashtag, you'll find people just like you working their way through a variety of aches, pains, and illnesses, giving you an instant community to turn to when things get to be too much to handle alone.
Whether you're stiff from a hard day at the gym, or you're battling a serious pain-causing illness like cancer, show your human side to others on Twitter who are facing the same battle.  This can help to take your mind off of your own pain, even while helping others do the same with theirs.
2. Indulge in #Funny and Have a Laugh
If you've ever heard the expression, "laughter is the best medicine," then you're already aware of just how effective humor can be when it comes to relieving pain.  A good laugh allows your mind to focus on something positive and helps thoughts of discomfort to make their way to the back of the line.
Visit Twitter for one of its best qualities - giving you a good reason to laugh out loud!  Using the #funny hashtag is one way to get in on the fun.  And half of the content found on Twitter is LOL-worthy, meaning that you can't spend much time there without letting at least a few giggles bury your pain temporarily.
3. Be Proactive with #Nutrition and #Exercise
With more than 500 million users, there's always someone talking about any given subject on Twitter.  That means that more popular topics like nutrition and exercise provoke endless conversation.  Assuming your pain is of the variety that nutrition or exercise can aid with – and most pain is – then checking out these aspects of Twitter can only serve to give you inspiration to take every step that you possibly can to dull the pain and promote healing.  Whether this entails eating better, working sore muscles back into shape, or giving your body all of the energy it needs to help you beat what you're fighting, you'll find something on Twitter to get you pumped up about it.
You can get started by using the hashtags mentioned above, but you'll quickly find that health advice, recipes, exercise insight, and related tweets will surface around all kinds of subject headers, leaving you with limitless reading – and healing – to do!
4. Tweet Your Pain Away
Consuming the pain-numbing content that Twitter has to offer is one thing, but never forget that you can also get in on the tweeting action at any time!  You may want to share your misery in an effort to find others facing the same battle.  Or, you may simply want to get your mind off of the pain in an effort to cope.  Either way, jotting down your thoughts and feelings during a tough time can prove to be very therapeutic.  And getting started as an active participant on Twitter has the potential to lead to all sorts of opportunities down the road, as well, even long after your pain has faded!
Image 1 Credit Dawn Ashley.
If you would like to submit a guest post, contact me here.