Carpal Tunnel Syndrome is a condition with pain, numbness and weakness in certain areas of the hand.  The "carpal tunnel" is a narrow canal in your wrist that protects a major nerve going to your hand and tendons that bend your fingers.  When this nerve is pressed upon, numbness, pain and weakness can result.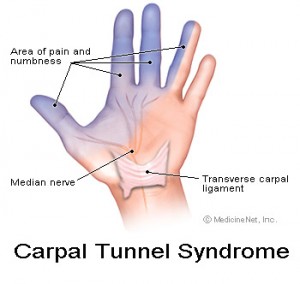 Who gets carpal tunnel?  People at risk include those who do repetitive tasks such as assembly line work (manufacturing, sewing, cleaning, food packing), data-entry workers, and computers users.  Women are 3x as likely to develop carpal tunnel compared to men.  Illnesses such as diabetes that affect nerves make them more susceptible to the condition.
Fortunately, proper treatment usually relieves the symptoms and restores normal use of a patient's wrist and hand.
A recent study by Zanette's group from Italy looked at the spread of carpal tunnel symptoms to other areas of the hand and up the arm.   Spread of pain occurred in 33% of patients.  Other symptoms included sensitivity to temperature and touch, and pain getting worse and worse with repeated stimulation.  The researchers proposed that sensitization was occurring in the spine and brain.
Importantly, because of these changes in the spine and brain, pain may persist even after treatment of the wrist area.
Another article about sensitization is "Pain Brings on More Pain."
The study: "Central sensitization in carpal tunnel syndrome with extraterritorial spread of sensory symptoms."
You can find more info about carpal tunnel at these website:  NIH and Mayo Clinic.