This article was an entry in our recent contest and was written by MizJess.
"A road trip to Canada?  You can't be serious.  What about your leg and your pain?"  These were the words I heard from family and friends when I decided to plan a vacation to visit a good friend of mine who lives in Canada.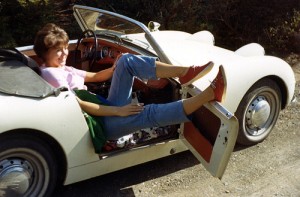 It was always a dream of mine to take a road trip, but something I had always kept on the back burner of my life.  I kept making excuses of why it wasn't the "right time" – money is tight, too much time off from work, other things to take care of first, I didn't want to travel alone….  You name the excuse, and it more than likely crossed my mind and kept me from a dream I'd had since I was a little girl.
When I was injured in a car accident in 2008, I thought for sure that the dream I once had would never be possible again.  The thought of driving scared me, not to mention the pain that it would bring.  The pain was like a black plague consuming my body one limb at a time.  About a year after the accident, I was diagnosed with Reflex Sympathetic Dystrophy (RSD or CRPS).  With that difficult diagnosis lingering in my mind, I lost hope in fulfilling even the smallest of my dreams.
It was a truly dark period in my life.  Countless doctors, numerous tests, wasted money, and no answers or cures to help me with the pain.  The pain never got better, just continually worse with each day that passed.  As sufferers of chronic pain, I'm sure that we've all lost hope at one point or another in our journey.
For me, it was 1 person who really brought me out of the darkness and gave me new hope and inspiration to fully live again.  It was this friendship that led me to take the plunge and fulfill my dream of taking a road trip.
It was better than I ever imagined it would be.  Not only did I get to see so many places along the 10 hour drive, but it also gave me a sense of pride and accomplishment.  Although my friend and I both suffer from RSD, our vacation wasn't centered around pain nor spent complaining about what we couldn't do.  We did what we could when we could do it and had a great time filled with laughter and fun.
Along with another RSD friend and her family, we would talk and laugh for hours and hours.  It was as if time was suspended, and the company of each other was what we all needed to escape from the harsh reality of the fire of RSD pain.  It was great to know that I wasn't alone and to be with people my age who fully understood what it was like to live with this awful disease.
This trip gave me the confidence in myself that I had long been missing.  Now I know that if I want to do something, I can.  I say what I mean and I mean what I say.  I no longer let other people influence my own personal decisions.  I should do things that make me happy while I still can, and not be concerned about what everyone else wants me to do.  I need to be my own person, make my own decisions and learn from them. After all, if life was easy and we never made mistakes, what fun would that be?
It's my life, and I can do whatever I set my mind to.  We all can.  Pain or no pain, it's our choice, and I for one have decided that it's time to live while I'm alive.  Try new things, be bold, be different.
To truly be happy with yourself and your life, you have to do whatever it is that brings you even the littlest joy.  The pain might put a damper on things, but you need to have hope and courage to continue on with the things you love.  And when you feel as if all hope and courage are lost, lean on the people in your life who fully support and care about you.  They'll help you through it no matter how dark the darkest time is.
This has been an eye opening experience in many ways, and I feel like I'm now on the right path.  I fulfilled a dream I thought was lost.
What have you done for yourself lately?
Thanks to MizJess for this inspirational story.  Thanks to Gbaku at Flickr for the photo.