I came across an interesting article recently about how we experience pain from organs such as the appendix, stomach, and pancreas.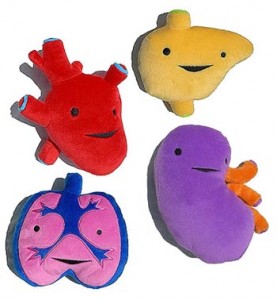 When you injure your pinky finger, messages go to your brain which allows you to pinpoint where the injury is.  You're able to know that it's your pinky finger, and not, let's say, your thumb.  You can also tell pretty clearly what type of injury it is – say, the difference between a burn and a prick.
In contrast, things with our internal organs – stomach, lungs, liver, pancreas – aren't so clear.  Why is this?
1. The pain message from your internal organs get spread out
The pain message from an organ goes to many different places in the spinal cord, so the brain has a harder time decoding where it's originally coming from.  The message gets diffuse.  Your brain can decifer in general where the pain is coming from, but not exactly.
2. Your brain receives messages from different places in your body to the same place in your brain.
Pain signals from your organs go to the same places in your brain as pain signals from other parts of your body.  For example, signals from your gallbladder and shoulder end up in the same place.  Or messages from your heart and your lungs can look the same to your brain.  So your brain isn't sure who sent the original message.  Thus it can look like there's illness in an area that's actually healthy.
3. The messages from your organs are closely tied to your autonomic system
Pain signals from your organs also activate your autonomic system.  This then causes nausea, sweating and diarrhea.  You can then wonder why you're having nausea, etc., without realizing that that's a secondary symptom.  This can make diagnosis confusing.
4. Chronic pain changes your brain
As in similar in some other pain conditions (CRPS or RSD, back pain), chronic pain can cause changes in your brain which then keep the pain signals going, even if the original injury heals.  There is now evidence that this happens in organ pain, as well.
Visceral (organ) pain is poorly understood, but work like this can help illuminate this area.  This can then lead to better diagnosis and treatment.
The original article is by DM Drewes from Denmark, and appears as an abstract, "Visceral pain: from the periphery to the brain," in the Scandinavian Journal of Pain, 2009, Vol 1.